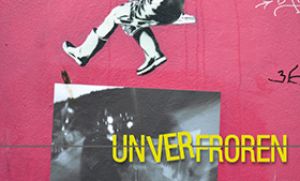 In der diesjährigen Winterausstellung des Kunstvereins Kulmbach e.V.vom 01. Dezember 2018 bis 27. Januar 2019 in der Oberen Stadtgalerie sowie dem Historischen Badhaus in Kulmbach bin ich mit vier Arbeiten vertreten.
Es werden spannungsgeladene Einreichungen zum Thema UNVERFROREN gezeigt, Arbeiten die aus der Reihe tanzen, ohne Rücksicht auf Verluste daher kommen, voller Empathie und Wärme oder einfach nur unverschämt kalt sind.
In this year's winter exhibition of the Kunstverein Kulmbach e.V. from 01 December 2018 to 27 January 2019 in the Upper City Gallery and the Historical Bathhouse in Kulmbach, I am represented with four works.
Obere Stadtgalerie | Obere Stadt 10 | 95326 Kulmbach Historisches Badhaus | Oberhacken 34 | 95326 Kulmbach Sa & So | 13 – 16 Uhr (Obere Stadtgalerie) & Fr – So | 13 – 17 Uhr (Historisches Badhaus)