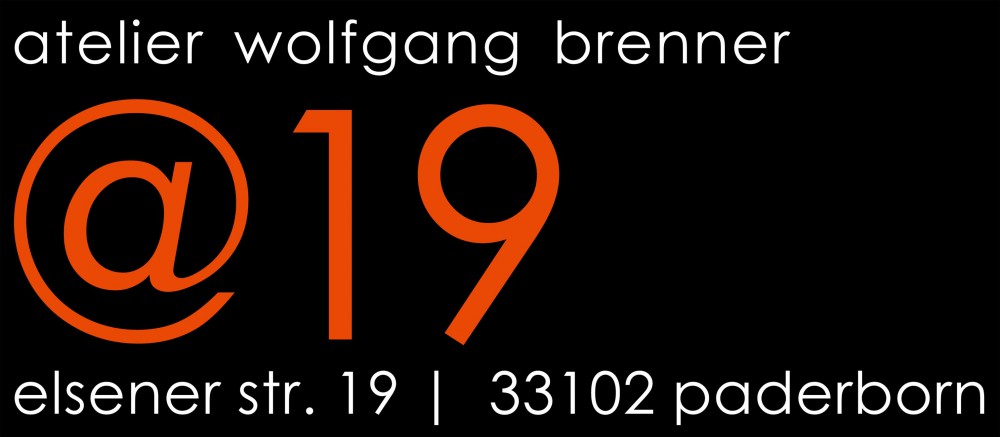 wolfgang brenner
atelier@19
elsener str. 19
33102 paderborn

info@wolfgang-brenner.de
tel.: 0049 177 1456380
germany

besuche im atelier gerne nach absprache | visit in my studio after arrangement
@19 sees itself as a space for art, culture, media and new ideas. in total, we have two studios, a large silk screen printing studio (4 rooms), etching studio, three seminar – and gallery rooms and an office for media work (print and internet media).
@19 versteht sich als ein raum für kunst, kultur, medien und neue ideen. insgesamt verfügen wir über zwei ateliers, eine große siebdruckwerkstatt (4 atelierräume), radierwerkstatt, drei seminar- und galerieräume und ein büro für medienarbeit (print- und internetmedien).

In folgenden Galerien bin ich ständig vertreten | I am constantly present in the following galleries:
World Art Delft
Rotterdamseweg 205
2629HD Delft / NL
Vlassis Art Gallery
6, Veroias str.
Ano Ladadika


Thessaloniki / Greece
Kunstverlag Wolfrum

Graphisches Kabinett – Kunsthandlung

Augustinerstraße 10

1010 Wien / Österreich
Galerie Egidius
Alte Dorfstraße 43
59494 Soest
galerie@19
Elsener Str. 19
33102 Paderborn
© Wolfgang Brenner / VG BILD-KUNST
Layout und Webdesign: Wolfgang Brenner
Alle Arbeiten sind urheberrechtlich geschützt. All work is copyrighted.

IMPRESSUM
Angaben gemäß § 5 TMG:
Wolfgang Brenner
Elsener Str. 19 | 33098 Paderborn
Telefon: 05251 / 8791192 (Anrufbeantworter)
E-Mail: info@wolfgang-brenner.de
Verantwortlich für den Inhalt nach § 55 Abs. 2 RStV
Wolfgang Brenner
Elsener Str. 19 | 33098 Paderborn
Wir sind nicht bereit oder verpflichtet, an Streitbeilegungsverfahren vor einer Verbraucherschlichtungsstelle teilzunehmen.
Haftung für Inhalte
Als Diensteanbieter sind wir gemäß § 7 Abs.1 TMG für eigene Inhalte auf diesen Seiten nach den allgemeinen Gesetzen verantwortlich. Nach §§ 8 bis 10 TMG sind wir als Diensteanbieter jedoch nicht verpflichtet, übermittelte oder gespeicherte fremde Informationen zu überwachen oder nach Umständen zu forschen, die auf eine rechtswidrige Tätigkeit hinweisen.
Verpflichtungen zur Entfernung oder Sperrung der Nutzung von Informationen nach den allgemeinen Gesetzen bleiben hiervon unberührt. Eine diesbezügliche Haftung ist jedoch erst ab dem Zeitpunkt der Kenntnis einer konkreten Rechtsverletzung möglich. Bei Bekanntwerden von entsprechenden Rechtsverletzungen werden wir diese Inhalte umgehend entfernen.
Haftung für Links
Unser Angebot enthält Links zu externen Webseiten Dritter, auf deren Inhalte wir keinen Einfluss haben. Deshalb können wir für diese fremden Inhalte auch keine Gewähr übernehmen. Für die Inhalte der verlinkten Seiten ist stets der jeweilige Anbieter oder Betreiber der Seiten verantwortlich. Die verlinkten Seiten wurden zum Zeitpunkt der Verlinkung auf mögliche Rechtsverstöße überprüft. Rechtswidrige Inhalte waren zum Zeitpunkt der Verlinkung nicht erkennbar.
Eine permanente inhaltliche Kontrolle der verlinkten Seiten ist jedoch ohne konkrete Anhaltspunkte einer Rechtsverletzung nicht zumutbar. Bei Bekanntwerden von Rechtsverletzungen werden wir derartige Links umgehend entfernen.
Urheberrecht
Die durch die Seitenbetreiber erstellten Inhalte und Werke auf diesen Seiten unterliegen dem deutschen Urheberrecht. Die Vervielfältigung, Bearbeitung, Verbreitung und jede Art der Verwertung außerhalb der Grenzen des Urheberrechtes bedürfen der schriftlichen Zustimmung des jeweiligen Autors bzw. Erstellers. Downloads und Kopien dieser Seite sind nur für den privaten, nicht kommerziellen Gebrauch gestattet. Soweit die Inhalte auf dieser Seite nicht vom Betreiber erstellt wurden, werden die Urheberrechte Dritter beachtet. Insbesondere werden Inhalte Dritter als solche gekennzeichnet. Sollten Sie trotzdem auf eine Urheberrechtsverletzung aufmerksam werden, bitten wir um einen entsprechenden Hinweis. Bei Bekanntwerden von Rechtsverletzungen werden wir derartige Inhalte umgehend entfernen.
Quelle: e-Recht24