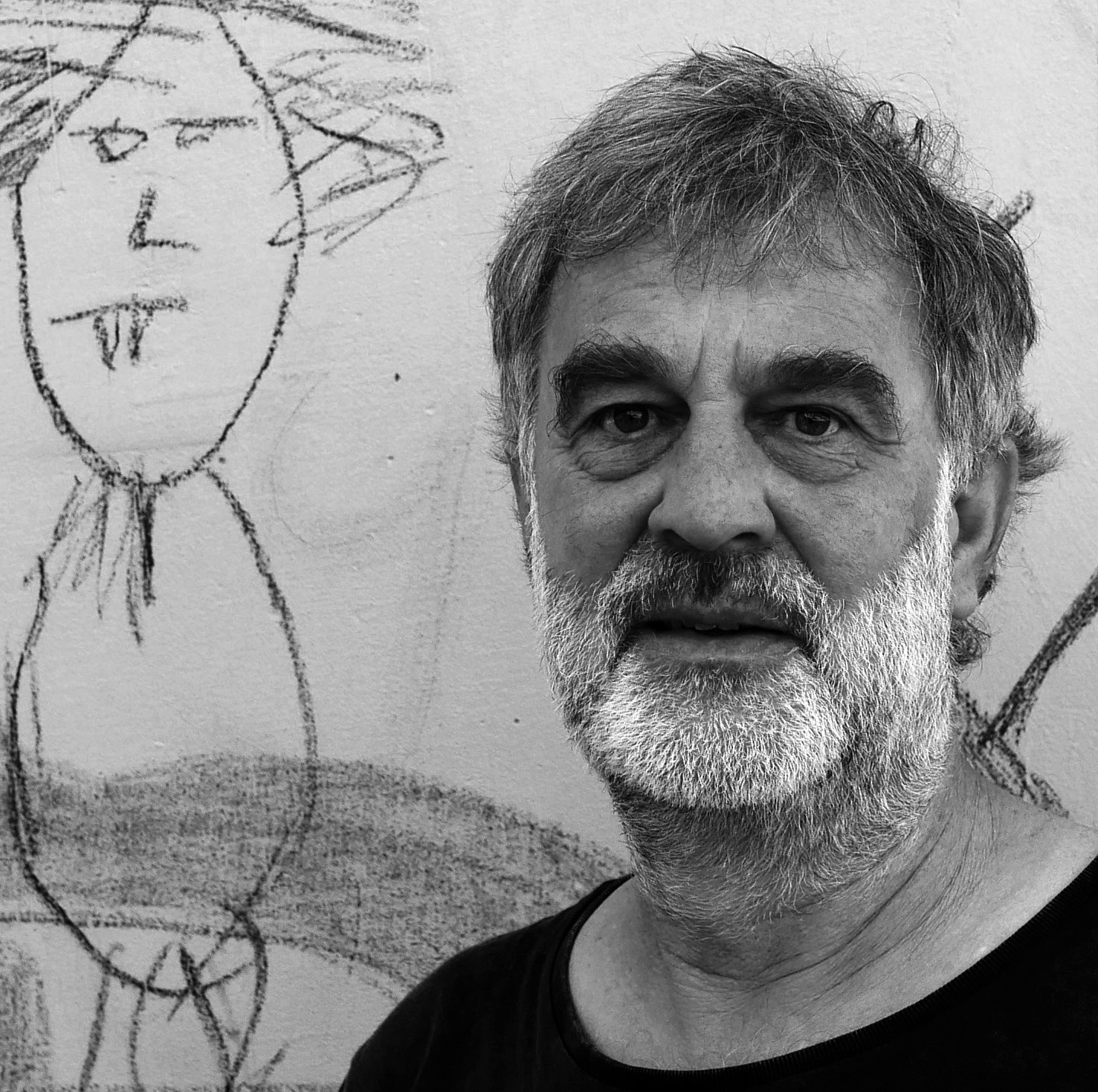 Wolfgang Brenner draws, writes, paints, leaves traces, mounts, arranges, finds materials. He experiments, but still follows traditional aesthetic styles and thus sketches out his own artistic language.
In his art, he materializes his perception of this world as well as of his own surreal imagination. Those works contain all sorts of contradictions: the realistic as well as the poetic, the earnest and the cheerful, philosophic and ordinary, the transient and the seemingly timeless, meaningful as well as banal things.
Exploring the works of Wolfgang Brenner means to start an aesthetic journey, it means to experiment with thoughts and imaginary pictures, to try out interpretations as well as just leave uninterpretable things stand as they are.
The artstic objects of Wolfgang Brenner, be it paintings, photographs, etc., are related to his realities. So they are signs of his selection in the overwhelming presence of elements of the existing world. But this is not sufficient to his personal semiotics; he covers the representation with other signs, words, as a kind of commentary, reflection, a critical cry-out maybe. Thus he shows his fundamental unwillingness to stay indifferent when confronted with the realities of the world, including his own vision of it.
It has been said of his work, by Helga Kämpf-Jansen, that he is 'in constant deliberation' with his own vision, and that, in a sense, he is his own art-jury. This critical attitude is a sign of Wolfgang's commitment to the world and at same time towards his own relationship with it.
Wolfgang Brenners Bilder sind nicht konventionell, nicht klassisch, sondern anders – scheinbar flüchtig in ihrer Machart, reduziert in der Farbe, bruchstückhaft, irritierend, verrätselt.
Er nutzt eine Vielzahl von Materialien und Techniken. Womit er auch hantiert – mit Gegenständen, Papier, Farbe, in Malerei, Zeichnung, Siebdrucktechnik, Fotografie – er arbeitet immer in Lagen, die er neben-, auf- und übereinander schichtet. Er baut seine Arbeiten vom Grund auf.
Da versteht es sich von selbst, dass diese Kunst keine flüchtige, spontane ist. Sie ist durchdacht, konstruiert und sorgfältig komponiert. Sollten nicht gerade die Mittel, die er häufig einsetzt – Fotografie und Text – Garanten für klare Aussagen und eindeutige Inhalte sein? Weit gefehlt – die flüchtige Betrachtung seiner Werke wirft mehr Fragen auf, als sie beantwortet. Nur wer sich Zeit nimmt und das Vordergründige durchdringt, wird sie entdecken, die unsichtbaren Dinge, die hinter jedem seiner Bilder stecken und letztlich erst Dimension, Sinn und Schönheit des Geschauten erschließen.
Wolfgang Brenner zeichnet, schreibt, malt, setzt Zeichen, montiert, arrangiert, findet Dinge, hinterlässt Spuren. Er experimentiert, folgt aber auch traditionellen ästhetischen Stilen und entwirft so seine eigene künstlerische Sprache. Er materialisiert seine Erfahrungen dieser Welt, wie die seiner irrealen Vorstellungswelten. Diese Materialisierungen enthalten all die Widersprüche und all das scheinbar Unvereinbare: Das Realistische wie das Poetische, das Ernste wie das Heitere, Philosophisches und Alltägliches, das Vergängliche wie das scheinbar Zeitlose, Bedeutsames wie Banales. Die Arbeiten Wolfgang Brenners zu entdecken bedeutet, eine eigene ästhetische Reise vorzunehmen, mit Gedanken und Vorstellungsbildern zu experimentieren, Deutungen zu versuchen, wie auch nicht zu Deutendes einfach stehen zu lassen.
Wolfgang Brenners Collagen fügen sich nicht bewährten Ordnungsstrukturen. Sie schaffen eine eigene Welt, die sinnlich erfahrbar ist.
(Helga Kämpf-Jansen)